Tuesday, November 15th, 2011
Jon has this funny idea that we need centerpieces on our table around the holidays. When I was sick earlier in October he went to the store and bought some food supplies I was needing, and these gourds. Now I had purchased the two small sweet pumpkins, so I can make pumpkin pie with them later, and we had acorn squash from a produce basket, but he bought the other gourds.
After arranging them on our table, Lilah came over and thought they needed something more. So she added some Halloween rings they had gotten from cupcakes or something of the sort.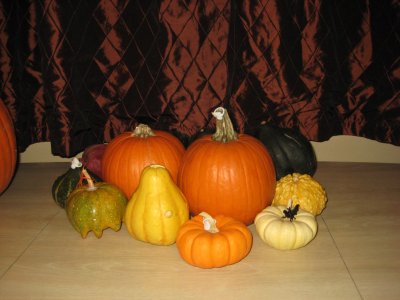 Then later in the month Jon wanted even more for our harvest centerpiece, so he bought Indian corn, and some of the other produce, such as apples, were just added because we had them.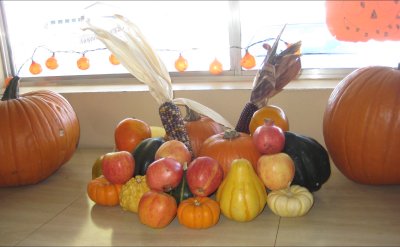 Sadly, the little decorative pumpkin gourds are starting to wilt and decay. I guess that answers Jon's question about them being saveable for next year. I'll probably bake and puree the pumpkin this week, to make sure I have enough for pie, but maybe I'll get something to have a nice Thanksgiving centerpiece, since we'll be enjoying one with just us this year. (My parents are out of town and his family will be doing it on Saturday.)