Wednesday, June 22nd, 2011
The play opened last week. It's been fun and I was a little worried about how we'd pull it together, but it's been going well. Now I just hope our ticket sales go up, because that's been the only disappointing part thus far.
The play schedule is a little different this year. We have the theater a week longer than normal, so instead of cramming 9-11 performances in a two week period, we have 14 over three weeks.
While we were at the theater each day last week, having dress rehearsals, then family night and finally opening on Thursday, this week we had three days off.
So we spent Father's day at the house this year, cleaning and getting it in some sort of order, then Monday the girls and I went up to Pine Valley to spend a mere 24 hours in the fresh, cool air. We came back Tuesday so Jon could see us, and tonight we start performing again, each night and then twice on Saturday. Then next week we'll perform Tuesday through Friday, and get back to our normally scheduled life, at least for a little while.
I'm so happy to see the light at the end of the tunnel, while I hate that the play season is almost over, and it may be the last one the organization does due to recent rate changes for the theater, I'm happy to be a part of a wonderful production.
Here's me and the girls in our play attire.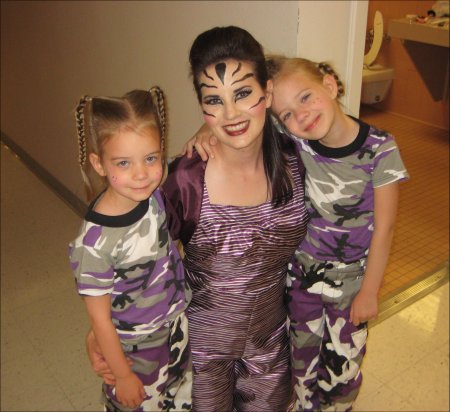 I'm a zebra, in case you didn't know, and they're cadets.
www.lvfamilytheater.org