Monday, November 12th, 2007
We went on a date Friday night.
I love the ward we're in. We have great people with great daughters who are willing to watch our girls for free and what parent doesn't like free babysitting, unless the person is a total weirdo? (The Jewitt's daughter, Shelby, is 14 and is the 'technical' babysitter when they have the girls, but my girls also love Hannah, who is 10, and is their playmate. I love the Jewitt's. They are an awesome family, and not just because they give us free babysitting. 😉 )
Anyways, we traveled the 16 miles and saw the Elizabeth movie. I used a free pass and one we bought from Costco. The theater we went to charges $10.25 per person for a movie. Yeah, that's why we're picky and I buy discount tickets at Costco. ( It's just hard to pay $20 for 2 hours of entertainment unless it's really good.)
It was a good movie and we headed over to Coldstone afterwards for some yummy ice cream dessert since it's only like 60 something degrees in the evenings still.
We got the girls to bed late, but we had a fun night.
Saturday we did various things round the house. I inside and Jon outside.
He found a lizard while cleaning outside and the girls had fun looking at it and touching it.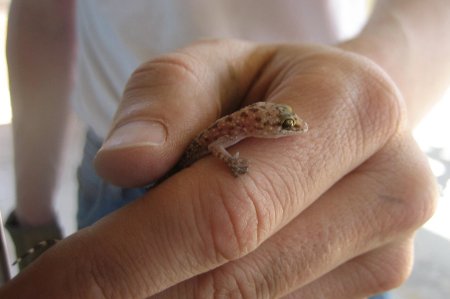 Our side-yard bug eater.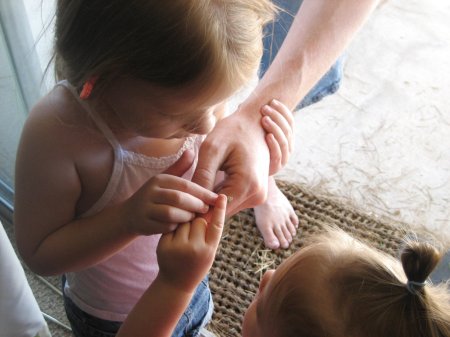 Don't hurt the lizard.
Later that night we bit the bullet and cut Eden's hair yet again.
She loves to play with her hair and lately she wakes with big honking knots in her hair. And she complains about me taking them out.
So Jon cut her hair and I helped towards the end.
It's very short.
It gives me confidence that we can cut our boys hair, if we ever have one.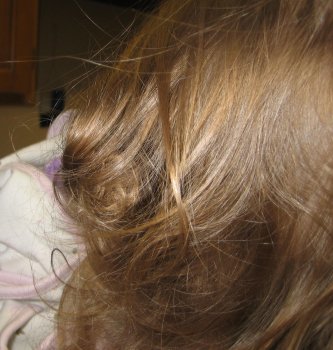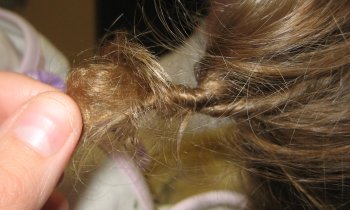 An example of the knot I face after she sleeps. I mean both nighttime and nap time I've had to deal with taking one of these out.
Her hair is pretty ruined at the tips where her knots have been.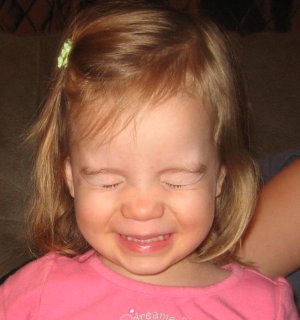 The last picture with her having longer hair.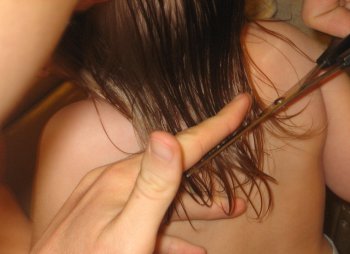 The first cut.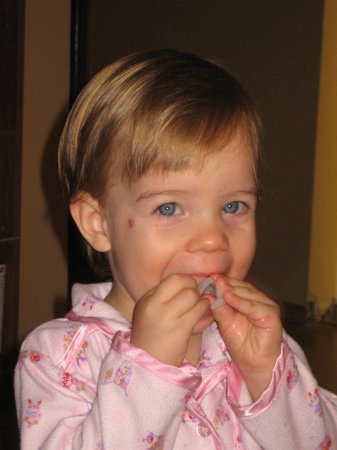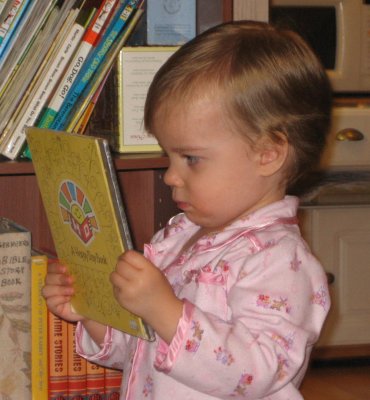 After…She might be destined for short hair throughout childhood.
Even though it's so short it kinda fits her personality.
She's still so cute but I'm gonna miss putting her hair in pigtails.
She didn't enjoy the haircut. She was crying a little by the end when we were trying to make sure everything was okay. She has crooked bangs, but I think that's standard on little kids.
We also visited Jon's parents today after church and the girl's naps. It's been forever because someones been sick or we've had other engagements with my family.
We finally made it today. Jon also set up a machine that helps send information to Dad's doctor from his pacemaker each night.
Dad was very slow getting around tonight and it was a slight reality check to see how bad he's gotten, though it might also be that we just haven't seen him for so long and have forgotten how slow he was before.
We also had a family from our old ward, as in the ward we were in for the first three years of marriage until we moved two years ago, move into our ward boundaries.
It's ironic because Jon has a lot of respect for the father and he is probably the one person he didn't want to know, or have to tell, about his change of heart. (His wife knows because we share a close mutual friend, so I'm sure he knows also.)
It's still nice to have a family move into our ward because it seems like everyone is moving out.