Monday, May 5th, 2008
I have a niece who does Works for me Wednesdays, though it's been a while since her classes have needed to come first and she was in Texas visiting family.
As I was getting my winter stuff put away I thought I'd share a tip of something I find works for me.
Whenever I buy things and they have a nice plastic zip cover I keep it and put my winter blankets or other seasonal stuff in them. This way dust is kept off them if they're in the open, like the top bunk of the girl's bed with other storage stuff, or they're kept clean when on at the base of my hall closet where I also store my broom and the girls love to "sweep" so it's not always carefully put back.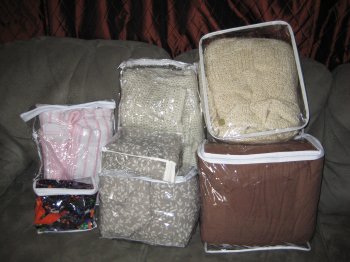 I was able to fit the top and bottom sheet of my flannel sheets back in there original case, but I use a plastic case from our car seat things to protect the set of our car from the car seats for the pillow cases.
I've got my girl's Halloween bags nicely put away an another case from something.
My comforter doesn't fit in the case it came in but it fits in the case that was for our mattress cover that I bought last year for our "new" bed.
The afghan/ blanket large enough to cover a full size bed that was a wedding gift made by my mother, fits in our case for the comforter.
And so forth.
It works for me.