Thursday, May 22nd, 2008
I've finished painting. One coat of primer and two coats of paint and I'm done.
My muscles are killing me. KILLING I said.
I like latex paint much better. It rinses out nicely with water.
I also had the right tools for the color coats and it went much smoother. ( For edging I used a roller that had a special head and it was  soo much easier than than using a paint brush for edging. )
I am pleased and if I use latex paint and the right tools it makes it all worth it. I also think I lost 5 pounds from good old hard work and lots of sweat, but I've gained two monstrous zits just in time for my 25th birthday.
I'm going to go lay down and I know I will awake with a lot of pain tomorrow.
Before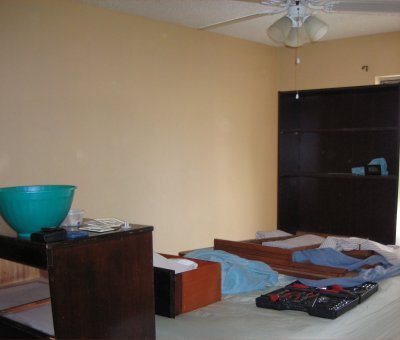 After
P.S. The cat came by while I was painting today and went to come in, but I was on the step stool in front of the door and yelled at him. He is crazy.