Friday, December 12th, 2008
Saturday the 6th, was our ward's Christmas dinner and program. Eden had a really hard time at practice that morning so that night I wasn't too surprised when she just stood there while all the other kids were 'dashing', which you'll kinda be able to see in the video, but our seats were on the wrong side of the stage since the seats on the correct side were all taken and the quality isn't too good, but you'll get the just of the cuteness.
Here's a short video of the girls singing Jingle Bells.
The girls sat on Santa's lap and they printed the photo's out right there. Since we don't do the Santa Claus thing, I'm not going to go out of my way to get a picture with a really nice Santa, and I'm just happy they were both so willing to take the picture.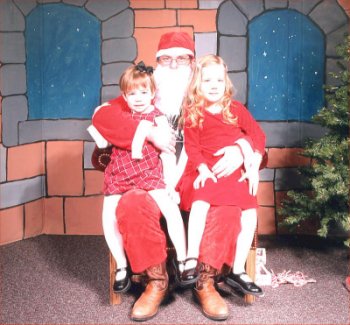 It's a pretty washed out picture. I tried to make it less bright, but that only gave them spotty skin.