Saturday, December 27th, 2008
Christmas Eve Day we finally got over to Jon's parents house to decorate the tree. Mom had put it up, but since the  girls love decorating we came over to "help" and to have Jon figure out what was wrong with her computer. Since they've been sick and we've been sick we waited till the 24th, otherwise it would have been done a whole 2 days sooner on Monday.
Needless to say the girls loved decorating the tree, but most of all getting on the step stool to decorate the tree. Lets just say that particular area was not lacking in the ornament department.
That evening we went to my parents for Christmas Eve.  It was just my parents,  Carolyn, and us, so it was a small gathering with way too much food, even if it was appetizer type food and cold cuts with rolls. I think Eden ate half the pineapple that night and Lilah was definitely on the silly side.
We read the story of Christ's birth in Luke and then the girl's opened their one gift, purple pajama's that I had made them.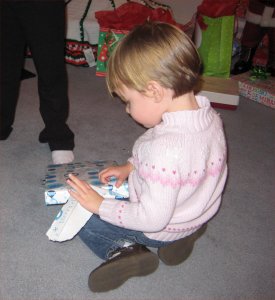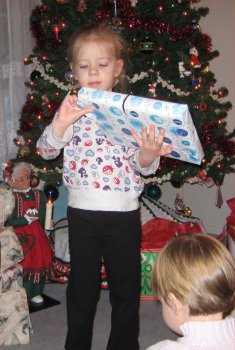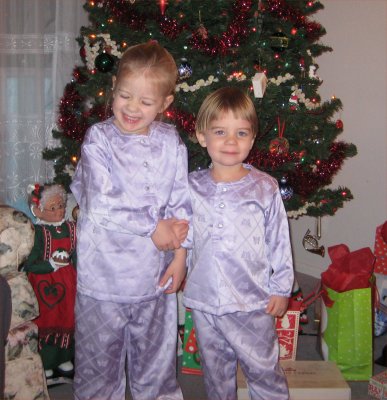 Lilah was being super silly. This was the first picture I took and I went on to take more, but she was even sillier in those with a wide open mouth and jumping in the air, I'm not sure what she was doing.
At one point in the night Lilah decided to sing Jingle Bells, and Eden followed in suit.
We left around 7:45pm and got home a little after 8 pm. Then we watch the Mormon Tabernacle's Christmas program on PBS and the girls got to bed at 9.
Jon wrapped what he had gotten the girls and me in our room and I finished wrapping in the living room. We had the gate up at the girl's door so they would stay in their room. Some days I am so grateful for children that don't climb and do crazy things.
Jon eventually fell asleep on the couch while watching a movie with me and I finished getting the presents around the tree, it's too close to the ground to put anything under it and I filled the stockings.
I got finished around 10:30pm,  but I finished the movie and then watched a few things on TV and got to bed at 12:30. Luckily the girls slept in Christmas morning.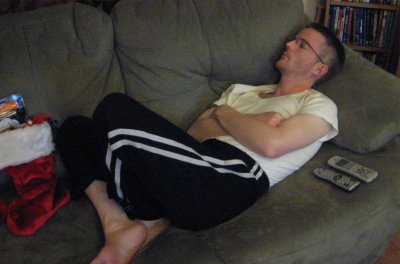 He has no will power to stay up late, and this was only at 10:30 pm.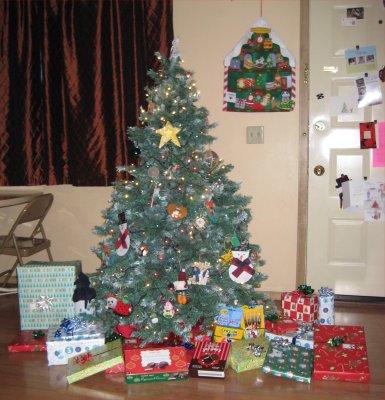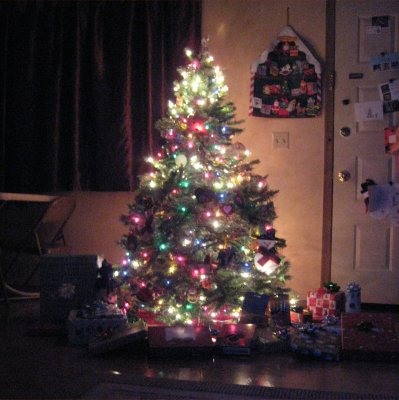 See how only half of the white lights light up. It makes for an interesting picture.