Friday, February 20th, 2009
Jon planned for a package to be delivered today, so I had to stay home till it arrived. I knew it would be lavender roses, since those are my favorite and it has become the tradition.
I waited not so patiently and teased him around noon that he'd have to come home early if they weren't here soon so I'd be able to shower for our date.
They arrived shortly after lunch and I opened them.
They were beautiful but not what I expected.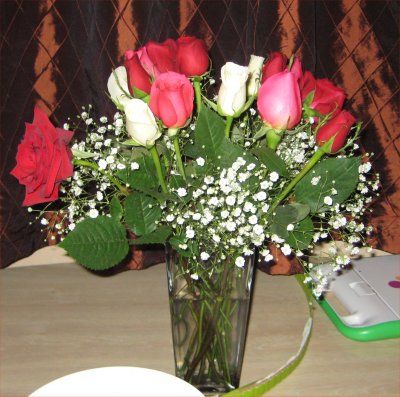 I was instant messaging Jon at the time and I teased or asked him if he had changed the order to have them match the roses we already had. (The girls and I got red roses on Sunday for Valentine's day from our ward.) He played along like he had and I mostly wondered why he would get me a red, pink, and white rose bouquet, with baby's breath. It just didn't seem his style or mine.
He came home and looked at the roses and told me those weren't what he ordered and now he fully understood what I meant by the roses matching because red would not have matched lavender.
He promptly checked his order and called costumer service and I should be receiving my intended bouquet of lavender roses on Tuesday, which will make our table very crowded.
I still love them  and I'll love having two dozen roses on Tuesday.
To celebrate our 7 year anniversary we went to a restaurant called Fuduka, a Japanese sushi bar and grill. Carolyn mentioned how good it was while we were passing it on our Black Friday shopping trip and I made a mental note of it. Jon thought it was funny that I'd wait three months to go to a restaurant, but it's a little more pricey that what we would normally spend on a date especially when we get appetizers and desert, which is a must on our Anniversary. The food was delicious and the chef superb. We sat around a grill where they cook the food right in front of you. The chef did fun tricks and it was nice to have piping hot food.
We enjoyed a lovely meal and free babysitting, since the girls had a birthday party to attend and the parents planned for the other parents to go have date time.
It was a wonderful night and I've really enjoyed celebrating our 7 year anniversary.
I love you Babe!