Friday, April 20th, 2012
The Smith Center is a new performing Arts building built near Downtown Las Vegas. When we heard about it, we were excited for it to be built since it supported the arts. I was excited because it would be bringing Broadway plays at a more affordable price. I forget when they announced that Wicked would be coming in August 2012, but I was super excited when I found out.
I kept in the back of my mind the knowledge that Wicked would be showing there the Fall of 2012. So last year when I heard a news story that you could buy season tickets for the Broadway series for Spring 2012, and being a season ticket holder would give you precedence in buying tickets for the Fall and Spring 2012-2013 season, when Wicked would be showing, I convinced Jon to buy 2012 season tickets for the Broadway series. (We did not know for sure if we'd be able to get Wicked tickets, it was more a hope.) It was a half season, so it was a nice chunk of change, but doable. Jon being the wonderful husband he is, and a supporter of the arts, agreed. We saw our first play, The Color Purple, on April 7th.
It was a wonderful production, with superb acting and singing. Our seats are the second cheapest in the house, and we were second from the last row on the ground floor, but there is not a bad seat on that floor. It would nice to be closer so I could see more of the facial expressions and details of the costumes, but I'm very pleased with where we're at and thankful for a husband willing to support the arts and my hobby of musical theater. (It helps that he enjoys it also.)
I am looking forward to seeing all the wonderful shows for the two seasons. We renewed our season tickets after we saw the show and I am so excited that Wicked is a part of the next season! I actually will be seeing it twice, because I'm going a second time with my sisters, minus Carolyn who will be seeing "The Boss" in Chicago. (We're still seeing if we can change the night to include her.)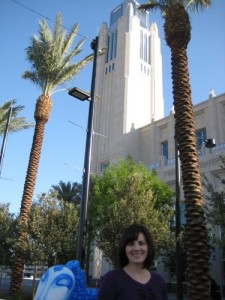 Me with the Smith Center Tower behind me. The architecture is really cool. It has a retro 1930's feeel to it, and is beautiful inside.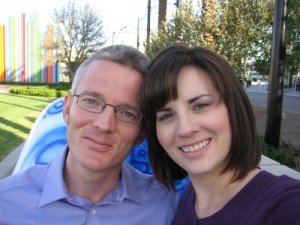 Jon and I after seeing The Color Purple. (We did not purposely wear purple. It just happened.)
The next play is Mary Poppins. It's showing on my 29th birthday and I'll be taking Lilah with me to see it. 🙂