Monday, April 9th, 2007
My sister Carolyn works at a real estate office. For an Easter gift she asked the women who does their house baskets to make each family, that was here for Easter, a basket. Here's ours. It has tons of stuff in it. Peeps, cotton candy, chocolate bunnies, crayons, coloring books, Orange slices, m&m's and candy kisses to name some of it. I almost don't want to open it because it's so pretty. It's was from her and Derek.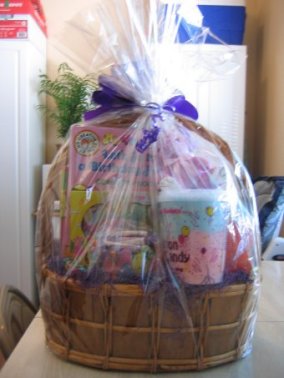 Carolyn also bought the dresses that the girls wore for Easter. She just liked them and I just kept them for Easter.
She's taken nicely to the position of "Aunt with no kids who spoils her nieces". Andrea use to do this, along with Carolyn, but now we only have Carolyn. Andrea still spoils them when she has a chance, it's just that she's hundred of miles away.
On Sunday I joked with Carolyn that she didn't need to have kids, we'd just share custody with her and Derek. We'd have the girls during the week and they could have them on the weekends, that way we could go on dates. 🙂
She wasn't up for joint custody but she did say she'd babysit once a month since she'd be babysitting Nia, he friend Julie's daughter, once a month. Derek would just have to have his boys night out on her babysitting night. 😉
Well see if it happens. Their house will be on the other side of the universe from us, but heck if it's free $6 in gas ain't bad for a babysitter. 😉