Thursday, October 30th, 2008
Wednesday night was our final Halloween event.
It was a carnival type affair at a local recreation center. Sam signed Britta up and I signed Lilah and Eden up. We met there in the chaos of Halloween fun.
They had lots of different activities for the children to wait in line for and attempt to try and all the children got candy whether or not they succeeded.
There was digging for treasure in a box full of shredded paper, throwing balls into a small blow up coffin with a skeleton, knock down the cans, and the like.
Eden was very weary of the evening. All the people and the high noise level had her clutching my hand all night, especially after we had the fire alarm go off for around 20 minutes. It was a false alarm, and mostly annoying, but not tremendously loud, though Eden covered her ears has much as she could since she only had one hand, like me.   I got so use to her holding my hand it began to feel strange if she wasn't grasping it.
Lilah loved it and said it wasn't too loud. I love that she loves Halloween this year. I think it's adorable. She even wanted to go into the haunted house, but the line was too long and I was nervous about Eden. Instead they did the jumper obstacle course, which was Eden's favorite. I think the night air and the lack of loud jarring music made it a lot of fun for her.
They had a cake walk and Lilah won our first time around! She was kind enough to share her cupcake with us. We played once more, but did not win.
It was a fun night, even though it was very busy and crowded. It wasn't to the point that I felt like it was a waste of time and all the employees were very nice.
We've already filled up our gallon ice cream bucket with candy. I'm not sure if we can take much more candy.
Here are the girls doing the jumper obstacle course.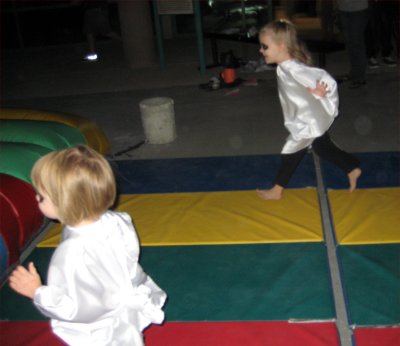 Add they're off.
There was a mesh siding so I couldn't take any pictures till the end.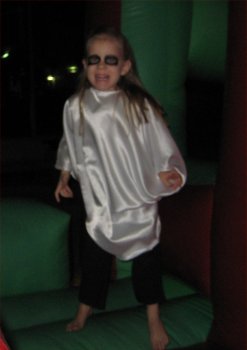 Lilah having fun jumping while we waited for Eden.
Eden finishing. She had landed funny before this so she was a little hurt in this picture.
Tomorrow is Halloween and Nevada Day observed so Jon is at home with us. (Yay!)Â  I can't wait to carve our pumpkin and maybe I'll start cutting out the table runners. I've really been avoiding them for some reason, though I need to get over it no later than Monday.