Saturday, February 28th, 2009
My niece Shauntae is having a girls weekend in Vegas with some friends. She flew down Thursday so she could visit with family. I had the pleasure of picking her up at the airport, which I got there at 10 am, just like she had predicted, even though her flight came in at 8:30 am. She brought reading material and people watched while she waited.
We tried to surprise my MIL since Shauntae hadn't told her that she was coming to town, but Rawlin, Shauntae's father, had told Grandma so our devious plan to just show up and surprise the grandparents was short lived. (We called ahead to make sure they were going to be home and me just dropping by wasn't working since she knew I was suppose to pick Shauntae up.)
So we first swung by my in-laws and then I took Shauntae to her dad's. After that I went home to clean, so my house was in a more acceptable form of organized chaos. We just have so much stuff that it always feel somewhat chaotic to me even after I've cleaned or organized.
Friday Jon and I had a lunch date with Shauntae. She wanted to see her favorite uncle, though I don't know if Jon is her favorite, but he sure is my favorite out of the Blake boys.
My MIL brought Shauntae by Friday morning and she got ready here. When I gave her the tour of our small, humble, abode the girls ran around like crazy people. I really don't know what gets into them when people come over, but they act very silly.
I dropped the girls off at Beth's, then we picked up Jon and treated Shauntae to our favorite Mexican restaurant, Lindo's.  We stuffed ourselves and then it was time to return Jon to work. There was a motorcycle cop hanging out where we dropped him off and I'm sure it must have looked odd to have Jon receive a kiss from me and then get out and hug Shauntae.
We then got the girls and took Shauntae to the house that she and the other women were renting for the weekend.
I'm happy I got to chat and talk with her in all our driving together. It's fun to see her since our relationship has mostly grown because of us both blogging. I wish they lived closer, as does Lilah who was so sad that we don't see her more often and wanted to go to lunch with us, even after she learned she was going to the Jewitt's, which shows you how much she loves you if she'll skip her favorite babysitter.
Before I took Shauntae to her house I had Lilah take a picture of us and took one of them with their oldest cousin.
Aunt Lacey with Niece Shauntae. I can't help but laugh when she calls me her aunt.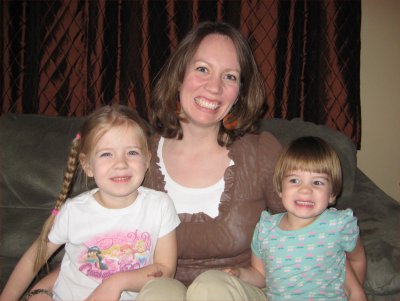 The oldest grandchild with the youngest grandchildren.