Friday, August 9th, 2013
When we left Kaysville, our destination was Logan, Utah, to see Shauntae and her father. I was so excited to see my niece and her family. She use to come down regularly to help Rawlin, and since he moved up there two years ago, we have not seen her. I was excited to see Rawlin too, I just love that family, but the highlight was seeing my favorite niece.
The Drapers were nice enough to feed us lunch before the girls and I went to church with them. At church I actually saw the brother to a mommy blog I follow. I remember the sister blogging about his mission return, and then his wedding.  It was pretty fun to see them in real life, but I did not say anything, because I'm shy like that.
Jon stayed at the house and had a visit with his brother Rawlin while we were at church. Lilah and the two older boys walked home from church, which I loved. I wasn't sure how my girls were going to relate to these three boys, but Austin, who is 11, had no problem talking to them and playing with them. Ethan, 12, was a little more reserved, as was Matthew,7, but they all got along.
We had a lovely BBQ at their house that evening, and just visited.  I did not get many pictures. 🙁 The kids played on the trampoline, while I discouraged them from getting water on the adult, that were sitting near the trampoline, with the water guns.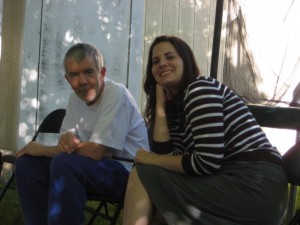 Rawlin and I enjoying the outdoors.(I was going to lift pictures off my niece's blog, because we did not have many, but I can't due to computer difficulties.)
While visiting Shauntae, we stayed in Brigham City with my cousin Ruth. She was nice enough to let us stay there, and we saw Sherilynn, my cousin once removed,  and her new baby Callen. Sherilynn use to live in Las Vegas, so her two older kids had lots of fun playing with my girls, their "old friends", while staying at grandma's. Emrilynn, 4 1/2, would often be upstairs waiting to play when we woke up, and there as soon as we returned in the evenings from Logan.