So my very giving friend Anna generously hooked us up with two tall dressers. They are all wood, none of that particle board stuff, and very nice, plus they match the girl's beds in that light wood way, though not exactly.  We like to be eclectic, which is what happens when you don't buy bedroom sets.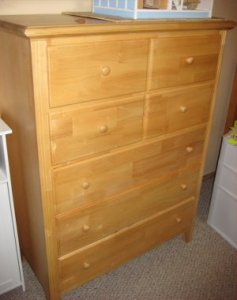 Why would someone give us hundreds of dollars of furniture, because I'm sure each one is worth over $100 dollars, and deliver it to our door, and help Jonathan put it in our living room till we figured out where to put them in our rooms?
Well, she got them for free and it was so generous of her to give them to us for free also. ( Anna didn't even let me give her gas money, though I am taking her out to eat next month as a show of gratitude.)
Anna works in the legal building for a home builder and whenever the furniture in the model homes becomes 3 years old, they have to get rid of it.
The way this particular builder gets rid of the used and damaged furniture is through letting employees chose furniture, up to five tickets worth and the two dressers were three total, and then they sell whatever is left to the public.
Anna told me about it when we were out to lunch on Wednesday and that Friday she would be able to claim furniture for herself and I mentioned, mostly jokingly, that we needed a tall dresser for the girl's bedroom. Eden's dresser was breaking, and I wanted to replace it with a tall dresser so I could fit both of the girls clothes in it and hopefully get rid of the changing table, which holds the girls shoes and Lilah's clothes.
Anna took  me seriously and offered to be on the lookout for a tall dresser if they did not have the large item she was looking for and not only did she get us one tall dresser, but two, but that was because the referee in the whole furniture give away earmarked both of them for her, and she gave us both of them since she did not need a dresser and eventually I figure the girls will each need their own dresser and  we thought they matched, why split the two up? It turns out they are not the same dresser, which we figured out once we unwrapped them, just similar and one is definitely a slightly higher quality but, both are very nice.
It really has lifted a small weight off my shoulders.
Eden's dresser has been breaking for a while but, it still worked. I knew I wanted to replace it with a tall dresser and I didn't want to get a cheap dresser, I wanted a nice one, but those costs money and furniture is not something we readily spend large amounts on.
With getting this new dresser Jon has agreed to move, or get rid of, the changing table and I'm really looking forward to getting it out of the girls room.  We may need it when we have another child, but it's old, it wasn't the most expensive changing table, and it was free and I just feel that it's a luxury not a necessity with a baby. The car seat I will store, it's a necessity, a changing table is nice, but it's a luxury and I feel we need that space for other things.  I hope to now have a designated area for school things, where as there are a few school things here and there and other things the girls do here and there, but  there isn't a designated spot due to a lack of space in our house. Since the dresser brings things upwards, we'll have more space.
Making sure whatever shelves or storage units we buy are tall is a big thing now since we've covered virtually every horizontal space we can find, now we need to work up and use our vertical space more efficiently. I may be able to use the drawers in the changing table for school stuff, but like I said, I want to work our storage area upwards and the changing table keeps things more horizontal. I really want a cupboard similar, or like, what we have in our dining area for food storage for our home school stuff. That way I can put things I don't want the girls to get on a top shelf and things they can use on the lower ones.
Anna, I really am grateful for the dressers and your generosity. I know it wasn't a big thing for you, it's just part of your perks, but they really are going to be a big service to us. ( I now have my own dresser once more and will probably store some sewing stuff. Jon just replied that he now saw my ulterior motive in taking both of them. 😉 )
Thanks again.