My sister Andrea did a post about planning on making chocolate chip cookies. She gave no recipe so I thought I'd look on-line to see what would pop up if I searched for "best chocolate chip cookie ever". I found this recipe in there and it's pretty good, though I don't know if I would say it's the best but they're pretty good and very big if you make them the whole 1/4 cup sized scoop of dough. It only makes around 14 cookies though.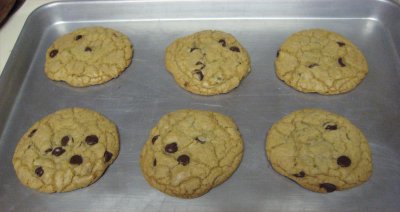 So pretty on my cookie sheet. I had to cool them on a towel because I couldn't find my cooling racks.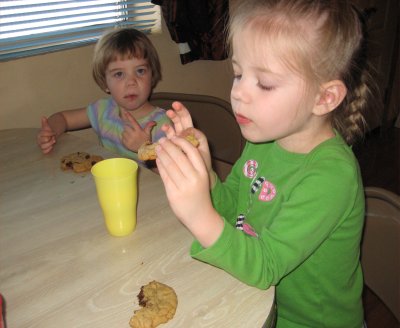 The girls loved the cookies. They're about twice the size than they normally get.
When I say I ate two, does that still make me a cookie hog?  (I ate only 1 1/2 at first because they were so big, but then I just couldn't bare to put half a cookie in the bag to keep for later.
Recipe:

2 cups all-purpose flour
1/2 teaspoon baking soda
1/2 teaspoon salt
3/4 cup unsalted butter, melted
1 cup packed brown sugar
1/2 cup white sugar
1 tablespoon vanilla extract
1 egg
1 egg yolk
2 cups semisweet chocolate chips
Preheat the oven to 325 degrees F (for pure convection, adjust accordingly; I used 310 F on convection). Grease cookie sheets, or line them with parchment paper or use a Silpat.
Sift the flour, salt and baking soda and set aside.
Mix the sugars and butter just until thoroughly mixed, then add egg, yolk and vanilla and mix until creamy. Add the sifted ingredients and mix until just blended.
Stir in the chocolate chips/chunks, then drop dough 1/4 cup at a time on a cookie sheet, about 3 inches apart, and bake for 15-17 minutes. Leave them on the cookie sheet to cool a bit when removed from the oven (this is important… they fall apart if you move them too quickly). Once they cool a few minutes, remove the cookies to a cooling rack to finish cooling. Or eat them right away, with milk!