We've been having lots of fun at the Blake house.
I love watching my girls grow up and I can't believe how fast they grow.
Things Eden's doing: Well she copies Lilah in all that she does and she loves her sister. Morning noon and night it's always Yiyah, Yiyah? If Eden wakes up before Lilah she always points to her sister and says her name. (She says Yiyah much more than she says dada or mama.) I also have to shut the door to their room if Lilah is still sleeping because I've found Eden sitting on Lilah's bed next to her a many a time while her sister sleeps.
Eden's following her parents example too. We don't teach them much but we let them know that you smash boxes before you put them in the trash. Luckily this box was empty.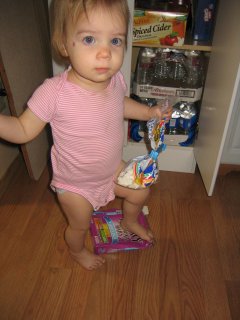 Lilah is getting more independent. We let her rub sunscreen on her and she got it all in one spot. She tried though.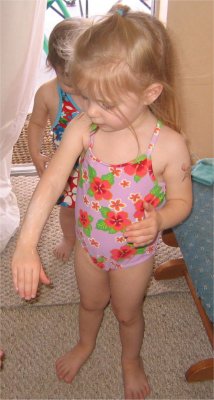 It was a beautiful Saturday on March 10th so Jon suggested running in the sprinkler. I wasn't too happy about it. I wanted to relax and not worry about them getting muddy or grassy. Oh well. It was fun for them.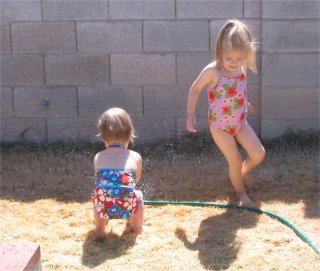 I was at target the other night and I saw these shirts that said "everybody loves a blue eyed girl" They also have it for brown eyes, but no green! (not that I could wear a toddler size 6.)
I got one for each girl and they wore them yesterday to their classes at the church.
I put three pigtails on each girl. I loved doing this to Lilah when she was Eden's age. Now that the mullet is cut I can do it!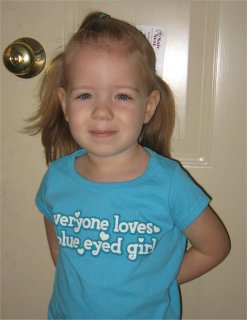 I love this one because Lilah is posing a smile.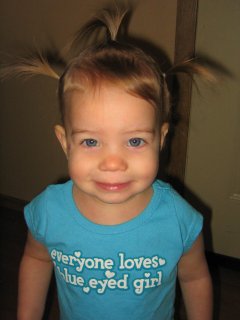 So much cuter in person.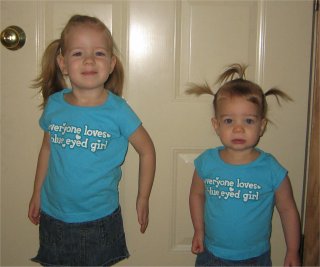 (I want to tell why Lilah's arm is in such a strange position. Eden kept walking towards me because she likes to look at the camera so Lilah was putting her arm in front of her so she would stay put. So when I asked Lilah to move it her arm went into this strange position. I just think it's funny how she mothers her little sister. )
We also had a picnic after we picked Jon up at work yesterday. Well, we had it at his work since UNLV has such beautiful grassy areas.
We then went to a park afterwards that is on our way home. I wish I had brought the camera. Eden was hilarious! It was the first time she'd been on a swing and she had a ball. She had a concerned look on her face, yet she was smiling. She kept saying "whoa, whoa", it was adorable.
I know I'm a terrible mom. Neither of my girls rode swings until they were at least 18 months or so. Not because I didn't want them to but because we don't go to parks often.
It was tons of fun and we may do the same thing next week when we pick up Jon.