I've only been to California a handful of times. Most were for band or choir trips to Disneyland or Knottsberry Farm. My last trip was to San Diego with Jon when I was pregnant with Lilah. So it was 7 years ago. We didn't have a lot of money, but we decided to do a weekend trip where we enjoyed a session at the San Diego Temple and shopping at some famous outdoor shops. We mostly window shopped but we did buy a few things, a shirt, necklace and a sea shell. It was our last vacation before we would be tied down with a child, and our last hurrah as a couple. With the San Diego trip we visited Mission beach. It was my first time to a beach, and since it was March, I dipped my toes in the cold ocean for the first time when I was 19, and only because Jon made me. I really don't like natural bodies of water, I'm just not a fan, and I really just wanted to see the ocean.
Now my weekend.
This past weekend Anna and I decided to take a trip to the LA Fashion District so we could buy fabric for the play. It's debatable whether we really saved money going, after you factor in gas and hotel, but the selection of fabric there is much larger than Vegas, so we were able to get some fabrics there that we could not have found here, and since they're for the ball gowns, it was totally worth it.
We got into LA around 11 pm on Friday night after taking just one detour. I really do not like driving California's freeways. They're so different from Las Vegas and foreign, luckily Anna's iPhone navigated us and put us back on track. Anna's father had gotten us a nice hotel room at The Westin, down in LA's business district. It was really nice, and we got to ride in one of the two elevators used in the filming of True Lies. We had a mostly quiet night and then woke up at 8 am to get up and ready for the day. We ate breakfast, figured out how much fabric we would need for the the cast and then hit the Textile area of the Fashion District.
It was crazy. Some stores were very organized while others had as much fabric has they could hold with just a narrow walk way to get around. There were just rolls and rolls of fabric everywhere. We found most of what we needed at one store, then other things at a few other stores.
After two trips to the car we ate some wonderful Greek food, looked around and bought some sun glasses then made our last rounds in the textile area to buy zippers and other things we almost forgot before we packed up and headed to the beach. It was a very busy day. We had been there from 12:30 till 5:30, walking around the whole time except for the hour we took our lunch.
Since we were so close to the beach, and I had only been there once, Anna decided we had to go to the beach. Then when I told her how reluctant I was to put my feet in the water for the one and only time at 19, she decided we then had to put our feet in the water. (She was wearing shoes and at first did not want to worry about taking off her shoes.)
I wasn't sure I wanted to go to the beach, but once I saw the coast, I was so excited to be there. It waned off I little as we tried to get in and park in this little $1 an hour parking lot that was kinda annoying. Anna and I just walked the beach, took pictures, and I called Jon and the girls to tell them I was there. Anna also took a picture of me talking to Lilah and e-mailed it to Jon so he could show the girls where mommy was.
As we walked across the sand we let the waves catch our feet. It was a little chilly in the air but the water was surprisingly not cold. I didn't mind putting my feet in the ocean water and I look forward to taking the girls to the beach for their first time in a few weeks, and us all swimming in the ocean for the first time together. When we headed to the pier I found some sea shells and rocks that I thought the girls would enjoy and they now look forward to finding their own sea shells, I think almost as much as they look forward to going to Disneyland.
We got back on the road at 7:30 pm and headed to Vegas. Our California visit was completed with a stop at In-N-Out and the spotting of a high speed chase taking place on the Southbound Highway, as we traveled North. It was complete with a helicopter and three or four police cars following with their lights and sirens blasting.
I dropped Anna, and all the fabric, at her house around midnight, she'll get to move it into her new house later this month, and I got home around 12:30 am, kissed my girls, and climbed into bed with Jon.
Me at The Westin in our 17th floor room overlooking downtown LA.
~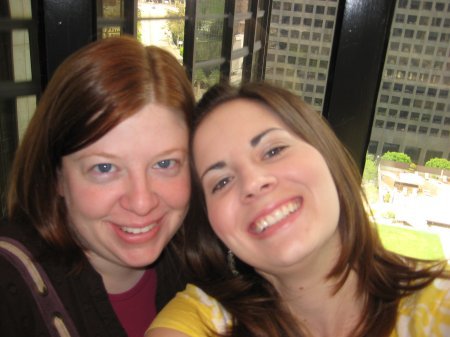 Anna and me inside one of the elevators at The Westin.
~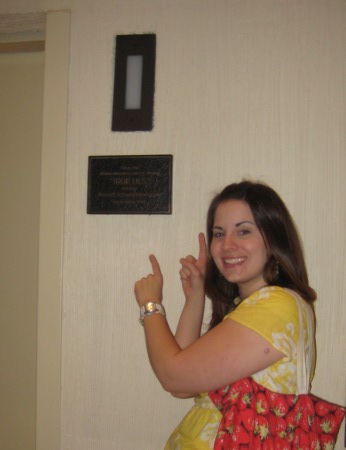 The sign telling us that this elevator was used in the filming of "True Lies". (It's not the one we took the picture in, but we did ride it up to our room the night before.)
~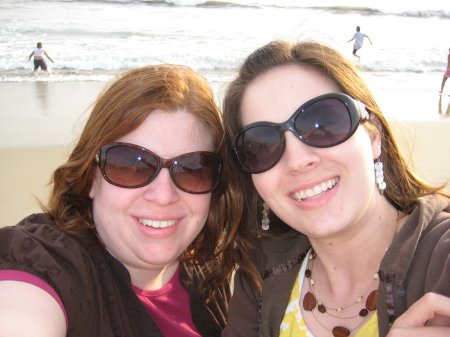 Anna and me at the beach with our Fashion District sun glasses.
~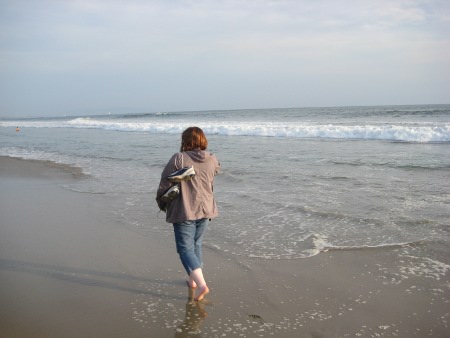 I caught Anna walking the beach. I liked how her shoes were draped over her shoulder.
~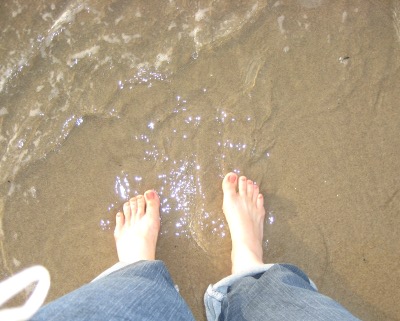 Look Hunny, I put my feet in the water!
~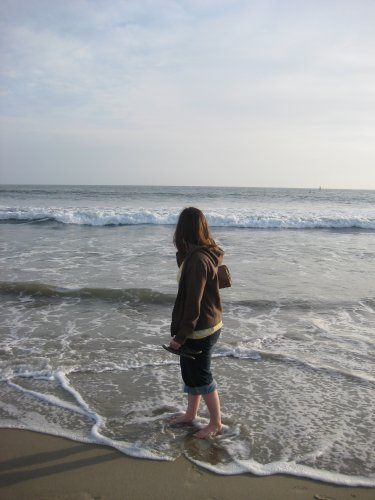 Anna had a better idea to prove I put my feet in the water for Jon.
~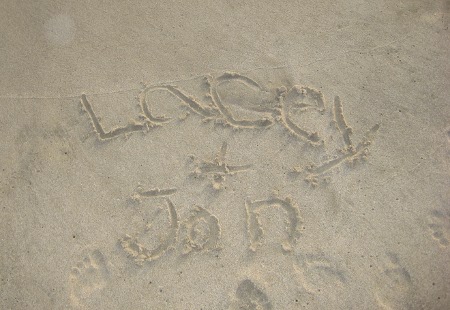 I love you Jon. (This might look a little messy. Half way through I thought, "Why is it so hard to write my name?" Then I realized I was writing it left handed.)