Well I had planned on making the girls hooded towels for Easter but my mom wasn't able to embroider their names on them and I was too tired to make them. 🙁
Instead I got them each a bag of goldfish colorful crackers one mini cadbury egg , some robin eggs and green pear applesauce. (Lilah didn't like the applesauce. I actually think it's too sweet for her taste.)
Church was early for us so we had breakfast and got dress to go. Lilah wanted to just stay home to eat candy and hunt for eggs but I said she had to go to church or there would be no more Easter. (She kept asking to stay home so that's when I gave her the ultimatum.) She went to church but apparently was noticeably grumpy to a primary counselor and her teacher during singing and sharing time. I'm sure waking up at 5:30 am didn't help either. (Our power went out about 4 times on Sunday. Lilah woke up because the door wasn't lite by the hall night light, or rather she started crying for that reason.)
They girls got tons of stuff at church, really Eden got tons of stuff at church, play dough, M&M's, a goody bag. It was more than we had given her! Jon got a picture of the girls and all their loot.
The girls and their loot. This is also the only picture I have of them together, so I had to post it.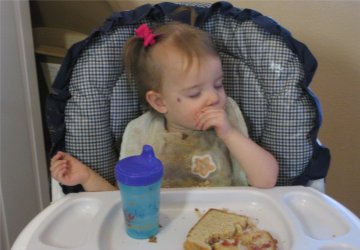 Sleepy Eden
Eden also woke up early that morning. As you see she feel asleep in her high chair at lunch. Jon had seen the signs of sleepiness and warned that we'd have to hold off on the egg hunt until after Eden's nap since she was so tired. I didn't believe that she was that tired until I saw her eyelids close and her head bob. Lilah was too psyched for the egg hunt so we decided we'd do two that day. She got hers that afternoon and Eden got hers after we got home from my parents.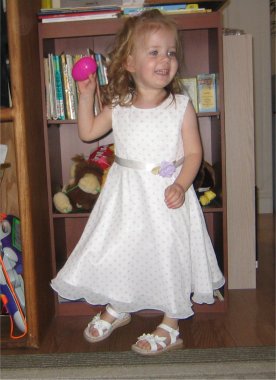 Lilah's egg hunt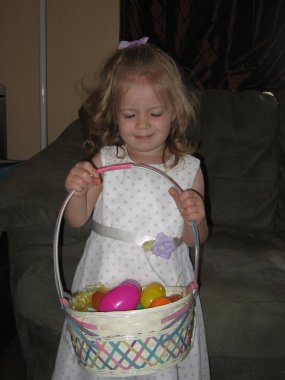 Her reapings
We all took afternoon naps and then headed to my parents for dinner. It was delicious and the kids couldn't wait until they went egg hunting.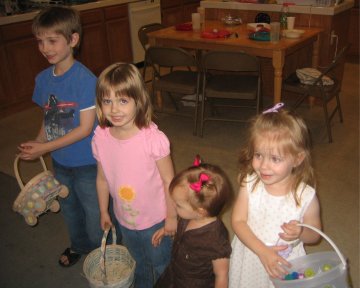 Howie, Kaitlynn, Eden and Lilah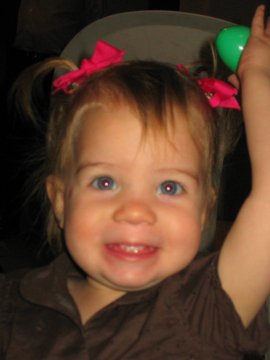 Eden finds egg!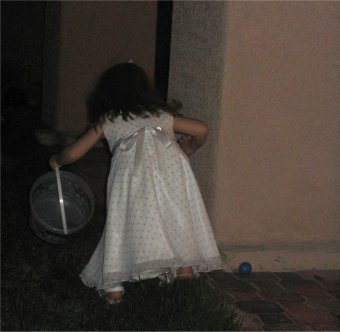 Lilah goes right by the egg!
Howie was a real trooper and aloud Eden to get some eggs that he spotted at the same time as she. Poor kid, they'd both see it and he was obviously faster than Eden but we'd always ask him to let her get the eggs.(She got 5 and he got 8. ) He's a great cousin.
Their was tons of candy in each egg. I mean this is a picture of what we got in the one basket my mom gave us and then the 15 eggs the girls found.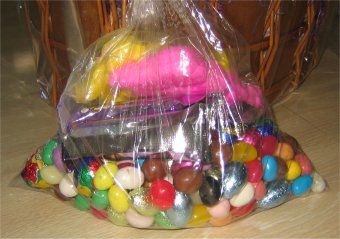 Jon wants the candy to be gone within a week, either we eat it or it gets tossed, though I'm sure I can't do that I love chocolate too much and I'm trying to be good, so I want it to last, we just don't like the asking of candy each morning by the girls.
Anyways between the candy filled eggs and the best Easter basket ever we're going to have a lot of candy to eat or give away. Anyone want candy?
Oh here is a picture from Eden's egg hunt that night.
It actually worked out well to do two. This way she could just look and find rather than us hurriedly point so she could have a chance against her sister. Lilah wanted to help find eggs but we kept her on the couch and Eden laughed with delight each time she spotted an egg on her own. Lilah did help me hide them for Eden. She wants to do more egg hunts, but I can only take so many and three's enough for me.
Happy Easter Everyone!