We bought bunk beds this weekend. Not because we really needed them at this time, though Lilah was getting big for her toddler bed that was just a crib converted to a bed, but they were the right price and we'll need them eventually.
When we were at dinner a couple Thursday's ago Jon's boss's wife mentioned how they were looking for bunk beds and how sad she was that she could only find them for like a thousand dollars, but her friend mentioned Big Lots and how they had bunk beds for $200. They had the bunk bed with a futon bottom, which is what I originally wanted, but they also had this regular bunk bed that converts to two twin beds. The futon bed was dark wood with black metal so I decided against it and we got these. Of course I decided on these after hitting an RC Willey clearance, which had a bunk bed futon for $400 and the Air Force Base which had an ugly wood bunk bed, a primary colors bunk bed and a black metal futon bunk bed. I like the beds we got. They're well made for being cheap, but they still have some cheapness to them. The bad thing with using someone else's truck who lives on the other side of town, AKA my dad, is you hate to return things if they have a defect. These just has some wood separated on a leg. Nothing to big that will affect the safety, but not pretty. One day we'll fill it in with something and then paint them. The beds have other things wrong but, but we're overall happy with them and we did only pay $200 for the beds them self. Of course we had to also buy a mattress, only one so far, and we'll need to get a solid board to go under the bed, but for now it works.
I have the room arranged so we actually have about the same space that we had with the two cribs. I like it. Don't mind the mess in the photos. The mattress is still airing out and I just piled everything on Lilah's bed so it wasn't on the floor.
Luckily we have our tent set up out back so Lilah and Jon slept outside last night. I had the fan on to circulate air and the door opened while Eden slept because of the strong scent to the new furniture. I need to go light a candle in there so by nap time it smells nice.
We spent a lot of money this weekend.
We bought the beds, which totaled $323, we visited Costco, which is always over $100, and I bought clothes for the girls. Mervyn's was having a sale so I was getting knit pants for $2 a pair and overall saved a total of 49%. Some things we're clearance other things were just on sale. It was great, though half the cloths are for now and half are for winter.:)
It was a crazy weekend. I think we've done our big spending for the next three months.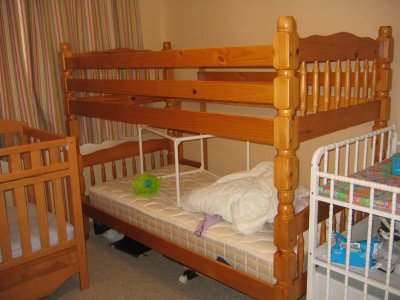 The new bed and a half, since we have only one mattress.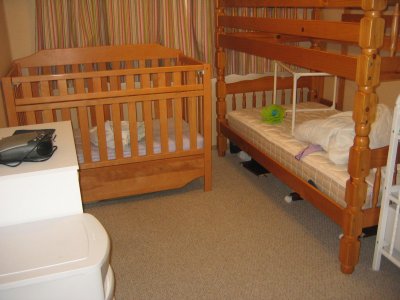 The small room.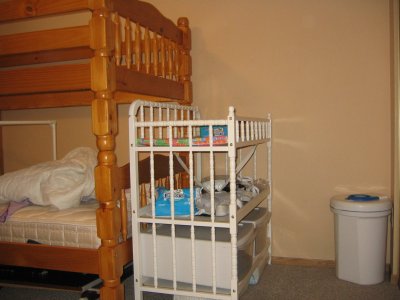 My new changing space.
At first we had the beds parallel to one another, but that left so little space that we decided to put them perpendicular.
I also had the changing table against the wall but that left no where for the diaper pail. Putting it against the bed gave me more room.
I like the new arrangement and can't wait to get ride of the other crib. It's under Lilah's bed so I can have so much more storage space once it's gone.
Anyone want a crib?