If you'd like to read more about what this pictures are about, or whatever I decided to write about, you can visit Family Vacation 2011-Part 9. I'm also please to say I only have one more post to write, which makes me happy because then I can go back to my regularly non-blogging self, or post about things like the play and Eden's birthday.
Enjoy.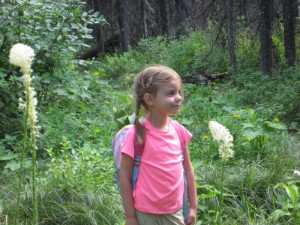 Eden next to some Bear Grass, a flower Anna taught her how to identify, and she let us know each time she saw Bear Grass.
~
I believe this is Lake Josephine, the lake we hiked too. It began to rain on us about 10 minutes later.
~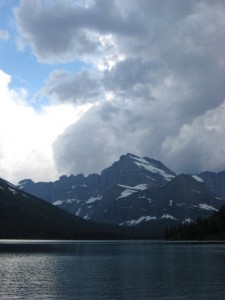 ~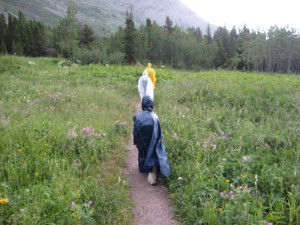 I just keep thinking, "The ants go marching one by one," every time I see this picture of us walking in our ponchos. This is before it began to pour.
~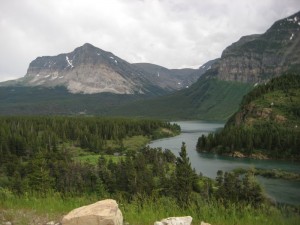 The view as we were leaving Many Glacier in Glacier NP.
~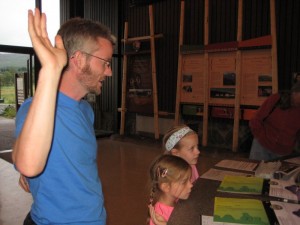 Our Junior Rangers saying the pledge, or taking the oath, or promising to be nice to the parks, at St. Mary's visitor center in Glacier NP.
~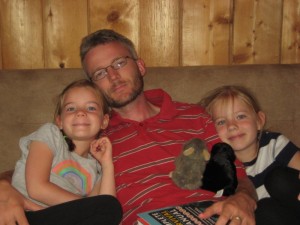 Daddy being woken up from his nap.
~

He had been sleeping until Lilah decided he needed some toys to sleep with. (Kevin took this picture for me.)
~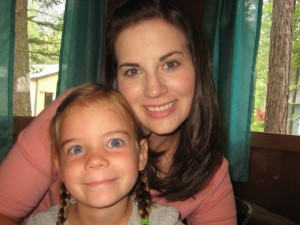 I was able to actually look normal for one day, since we weren't hiking. Lilah took this picture, and I'm not sure why Eden's eyes are so wide.
~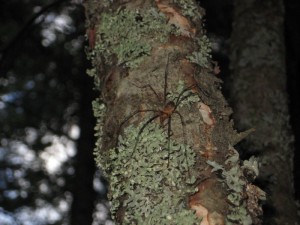 A spider on the tree outside of the cabin. We saw several that looked like this guy. Eden took this picture.
~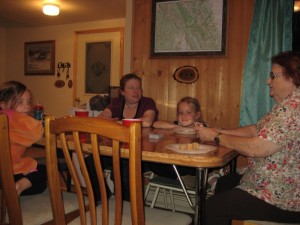 Playing Uno and eating dessert.
~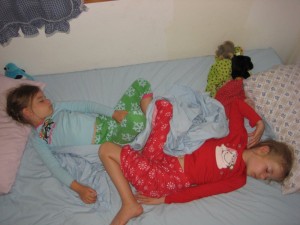 We regularly found the girls in positions similar to this in the morning, since they were sharing the bed. One time Eden had her leg over Lilah. They apparently are very heavy sleepers.