Jon and I celebrated our 10 year wedding anniversary last month. Of course I posted something on Facebook, but neglected my blog.
So far we've had a little celebration each month. In January we went to The Brad Paisley concert and went out to eat with my sister Carolyn and her husband Derek. Derek got Carolyn Brad Paisley tickets for Christmas, and I decided that's what I really wanted for Christmas. (Jon had planned on me getting a massage and having a spa day or morning.) Since we were buying tickets just a month before the concert, they were a little more pricey, so we decided that they would be a part Christmas and a part Anniversary present. So now I plan on doing something each month this year to celebrate our ten years together.
The Brad Paisley concert was wonderful. My favorite part was hearing "Whiskey Lullaby" with the lead singer from The Band Perry singing the female part. Whiskey Lullaby is one of my favorite songs, it's sad, but I love the music. Brad put on an awesome show and it was worth every penny.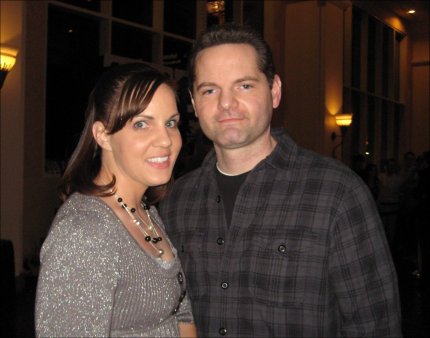 Carolyn and Derek.
~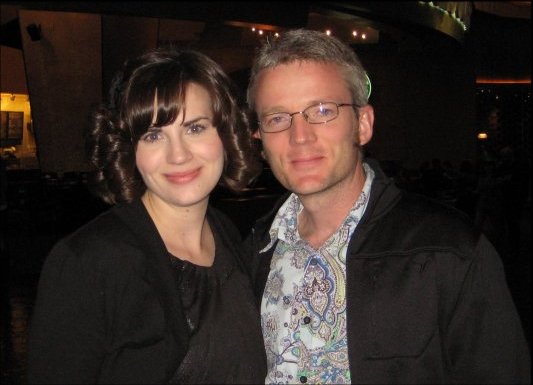 I received compliments on my hair by our waitress and by two women behind me as we were leaving the concert. The first started touching my hair and was amazed at how it wasn't moving. (I admit I have to use a lot of hair spray to get it to stay this way.)
For our actual anniversary, Jon took the day off. This is the first time he's taken our anniversary day off. He also had two dozen purple and lavender roses delivered. I wanted him to go to the park with the girls and I, but he said he had to stay home, and that's when my gourmet caramels from Fran's came. I think it was good that he was home, because I only expect roses on our anniversary, and wouldn't have known to stay home. We enjoyed a fun meal at home and just had extra time together.
My roses and chocolate.
Saturday night was when we went out to celebrate our anniversary with time away from the girls. We decided to keep it costs moderate and ate dinner at The Cheesecake Factory. We then had my rings inspected, it was that time of the year again, and figured out our current ring sizes. I told Jon I wanted to have him pick out a wedding ring, and he was very hesitant. Once at the store he liked looking at the rings there, but wasn't sure. Once home, and armed with his size he went on-line and picked out a ring and ordered it. He was pretty happy with himself. The ring came on the 29th and I placed it on his ring finger as I jokingly asked him to marry me again. He really loves it, and it was nice to see him get so excited over it, especially since I first had to coerce him into getting one.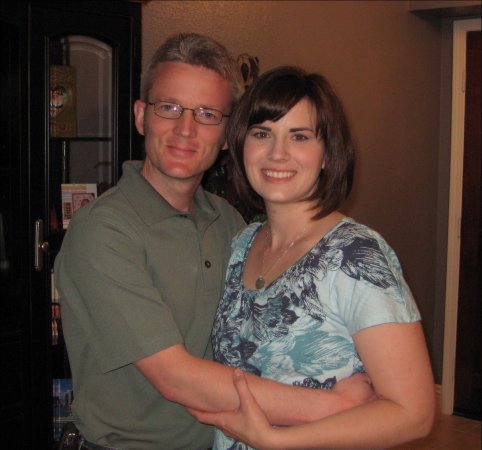 Us once more, but isn't Jon so cute?
I'm so grateful for Jonathan and the happiness we've found. I've been in an especially lovey and silly mood lately, and he puts up with it with a smile. I feel like I really have so much joy in my life because of my wonderful husband and two wonderful daughters.
Thank you for ten wonderful years together Jon. I truly love you more today than the day we were married.