Jon had his birthday at the beginning of May.
For Jon's birthday he went to work, which he normally does, and was able to enjoy some celebration with his co-workers. He then came home to some excited girls who had him search for his present before he worked out. Lilah made a little "scavenger" hunt. I wasn't feeling my best so instead of riddles, they went more like, "Go to the microwave. Go to the dishwasher." etc. Jon followed directions and they lead him back to the couch, where his gift was. The girls colored the box like it was a present, in effort to reuse and recycle, and because I wasn't feeling well. I was actually able to surprise him for his gift this year. He had told me a long time ago what he wanted, and apparently had forgotten. (It was a CD, Thick as a Brick II, and a Lone Wolf book to add to his collection.)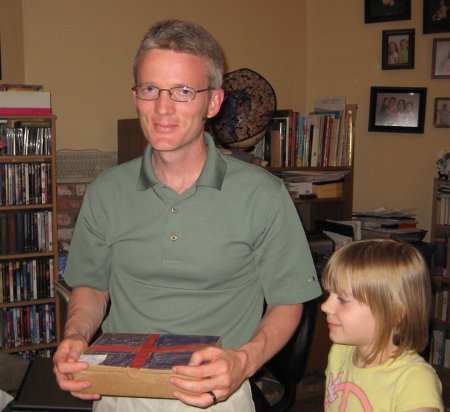 Jon told me he wanted home-made pizza for dinner, so the girls and I prepared our pizzas and shared in making Jon's. (He was working out.) We then enjoyed some yummy pecan pie. His boss had made it for him last year on his birthday, and I asked for the recipe because it was delicious. Jon's boss made him a chocolate coffee cake this year, because she thought I might be making him pecan pie. She was correct in her guess. Eden loved the pecan pie and declared that she wanted it for her birthday.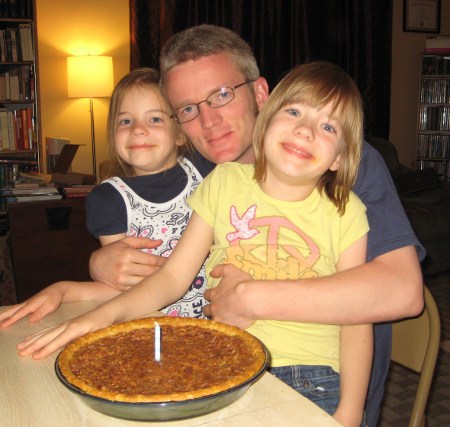 We then enjoyed a nice evening at home as a family.
For my birthday, at the end of the month, I was able to enjoy a quiet morning at home. Jon took the girls to Science Saturday and I started getting ready to see Mary Poppins at The Smith Center. I decided I wanted curly hair, which takes forever, but allowed me to be extra cute on my birthday. Since the show was Mary Poppins, I took Lilah with me as sort of an early birthday gift. We barely got there in time, and the show started. About 5 minutes in the set to the house malfunctioned, and it was nearly a full hour later when they began again. Lilah was really good and we took a couple pictures while we waited. I called Jon to let him know that we'd be home an hour late and he suggested we go out to eat, because he didn't want to cook and thought making me cook on my birthday was not very nice. I chose Olive Garden and we enjoyed a nice meal together as a family. Jon almost thought to order dessert, but I reminded him that he and Eden had made me a cake while Lilah and I were at the play.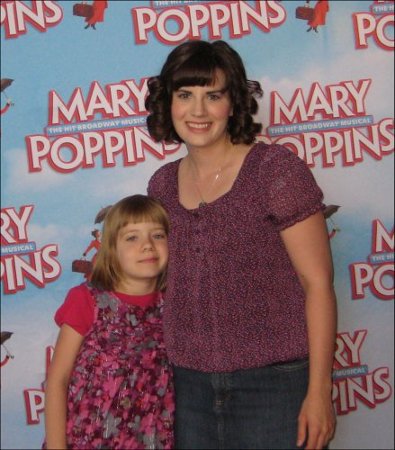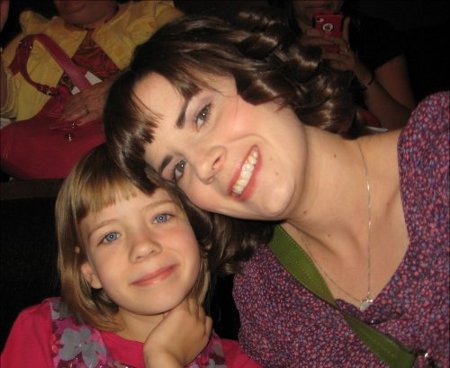 We went home and enjoyed cake and went to bed as one very stuffed family.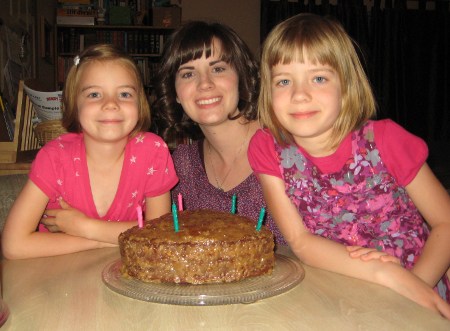 Becoming one year older isn't so bad when you get to enjoy it in such wonderful ways.