I gave the girls an early bath and put Lilah's hair in curlers to start off our Halloween.
Then in the morning we carved our pumpkin.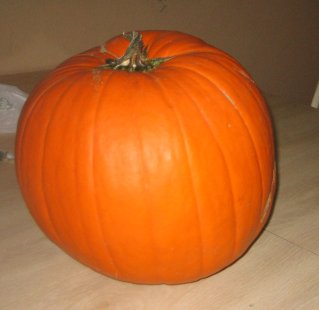 (I bought it for it's cute stem and beautiful orange color, never mind it was lopsided and had a scar on it. )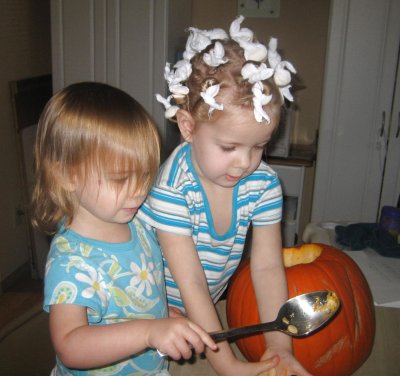 Lilah enjoyed taking out the "guts" of the pumpkin.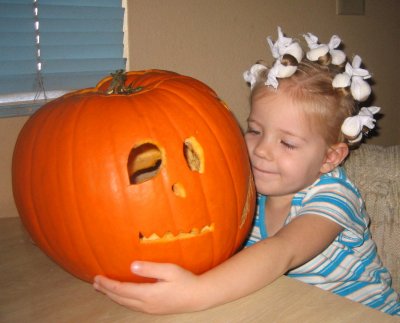 Lilah sketched a face for  me to carve.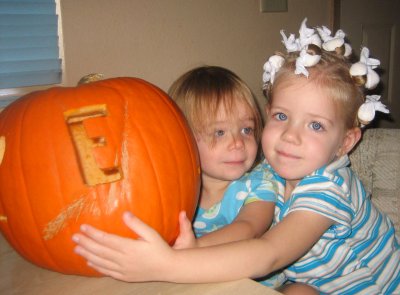 Eden just scribbled so I carved an E for her.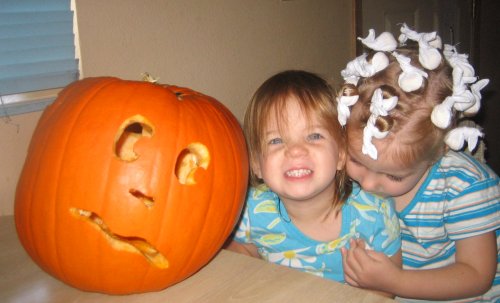 I did my own pumpkin face also. ( I love Eden's "smile" I think that's what it's suppose to be.)
Jon came home early, a very nice surprise,  so I left early to go to my parents house. I met my sister Kristi there with her kids and my sister Carolyn. (Jon was left with candy duty. I love to take the girls out trick out treating.)
We started trick or treating shortly after dark and the girls looked beautiful.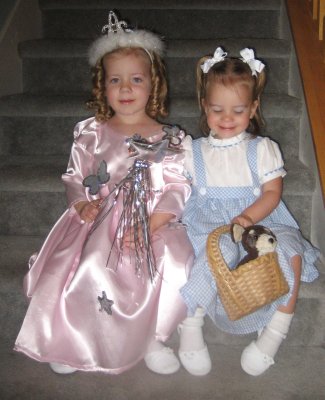 Glinda and Dorothy.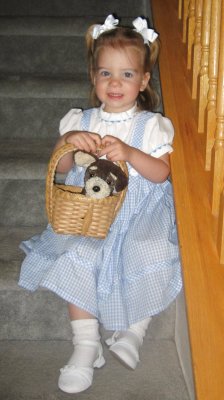 Dorothy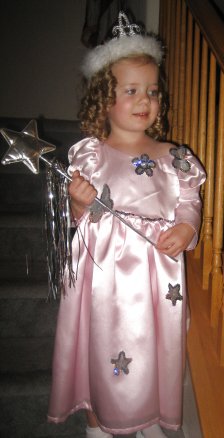 Glinda
We just went up and down my parents short block, then we stopped by "Grandma's store", aka JoAnn's, to see my mom as she had to work last night.
We got to our neighborhood and went up and  down our little block. There was actually 8 houses including ours this year giving out candy opposed to the 5 or 6 from the previous 2 years.
Then we visited one of Eden's nursery leaders, because they love her so much and I love to show the girls off. Then the Jewitt's since they're in the same neighborhood and the girls were more excited to go see the Jewitts than the nursery leader. (They love the Jewitt's cats, toys and daughters who watch/play with them.)
Funny story: When we pulled up to the Jewitt's, Sis. Jewitt, or Beth, was walking her oldest daughter and her boyfriend to the daughter's car. As we walked up I said they couldn't leave without seeing their cutest trick or treaters. So they said how cute the girls were and then Beth said to the other two that they needed to go into the house so the girls could knock and say trick or treat. So she ran the other two into the house with her.
After a short visit at the Jewitt's we stopped by the store for milk and cereal. I heard a  a lot of how cutes. (Have I said how much I love to show my kids off, though we went to the store because we were completely out of milk and it's on the way home from the Jewitt's.)
We came home and had a little fun with the glow sticks Britta gave the girls.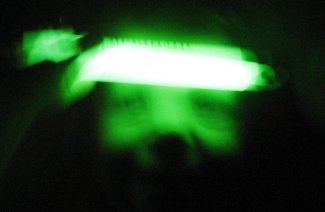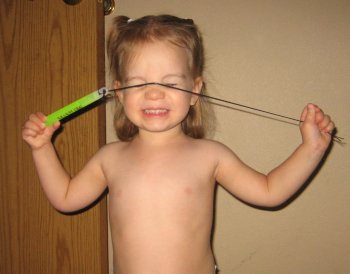 Then the girls had fun in their candy.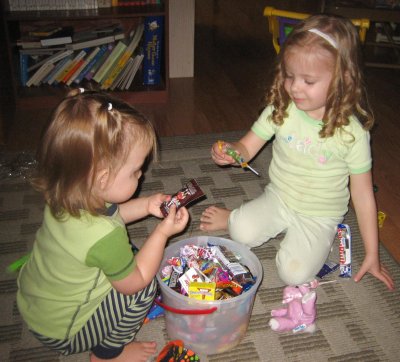 Mmmm, candy.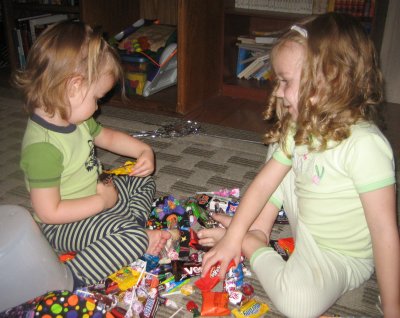 MMMM, candy!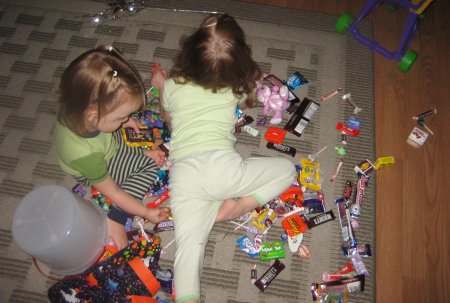 MMMMM, CANDY!!
They got to bed about 10 pm. Only an hour past their bedtime, though it's been more like 9:30 lately anyways.
We had a great Halloween and Lilah has decided to be Dorothy, a mean witch, and Tinkerbell for Halloween next year.
Our pumkins with the candle. (I forgot to take any pictures before the girls went to bed so you get just the pumpkin.)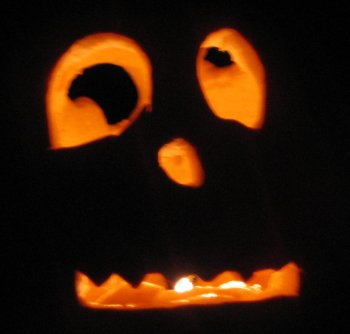 Lilah's pumpkin face.
The holes from my carving's eyes give an interesting affect, in which Lilah actually had a circle within her larger circles, so this is more true to her drawing.
Now I know why you only carve one side of the pumpkin.
My carving illuminated.