I was at my parents house tonight when I heard the news that our beloved Prophet Gorden B. Hinckley had died.
I wasn't sad, but I was saddened.
He is the second prophet that I have any real memory of. The first being the President Howard W. Hunter, who served for a brief 9 months.
He accomplished so much and was such a loving prophet to the church.
I believe he truly was a man of God.
Farewell President Hinckley you will not soon be forgotten by the saints.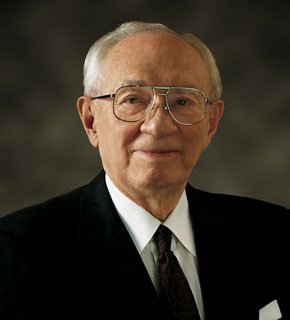 Released from LDS headquarters. More at this site.
President Gordon B. Hinckley, who led The Church of Jesus Christ of Latter-day Saints through twelve years of global expansion, has died at the age of 97.
President Hinckley was the 15th president in the 177-year history of the Church and had served as its president since 12 March 1995.
The Church president died at his apartment in downtown Salt Lake City at 7:00 p.m. Sunday night from causes incident to age. Members of his family were at his bedside. A successor is not expected to be formally chosen by the Church's Quorum of the Twelve Apostles until after President Hinckley's funeral within the next few days.