I had my mom make three nursing blankets each for Lilah and Eden before they were born .
They're made of lightweight fabric with a simple edging of rick rack and I got the idea from my SIL Becky who told me about using lightweight fabric instead of flannel, which can get hot to nurse under.
Even though Becky had given me this advice the first time we met and it was a year later that Lilah would be born, I remembered and took her advice and had my mom make me some for Lilah and then Eden, and the grandchildren who have followed were also made these blankets on my side. ( They're so great for swaddling and blocking the sun off of the babies eyes in car seats or for toddlers to cover their own heads when the sun is in their eyes. Also my mom made them because I wasn't sewing when Lilah was born, and just for traditions sake she made Eden's too.)
My girls love their blankets. Around a year old we allow them to start sleeping with blankets and just rotate them through.
They each have their favorites, always the brightly colored, or richly colored ones.
Lilah's have definitely been used and worn through and as the holes began I started taking each one away.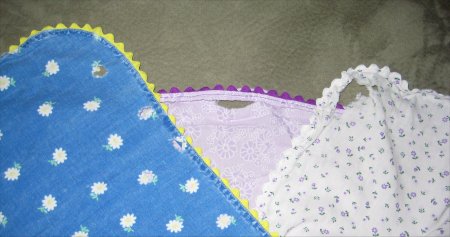 The blue one was Lilah's favorite.
To compensate for getting rid of the beloved "soft blankets" I took Lilah shopping last Wednesday to chose fabric for two new blankets. I wasn't going to add edging, but they're so much cuter with edging. Jon called me Marcie when I got home and he saw I had also bought edging. (She's an old friend who always goes the extra mile in sewing projects, or really any project, even though it's not always needed. Plus over half the cost is edging.)
Eden loves Lilah's new ladybug blanket, and now wants to go shopping for her own blankets. I keep telling her she has to wait till hers get holes in them too.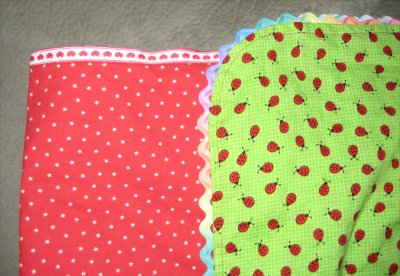 New blankets. I let Lilah chose the fabric and edging.