So, I've received my anniversary presents.
One dozen lavender roses.
One box of chocolates.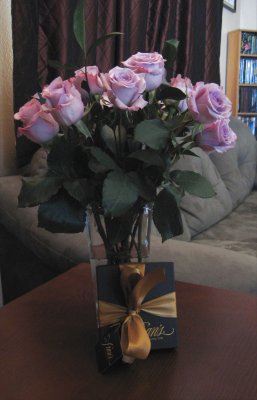 They're delicious. They're Grey and Smoked Salt Caramels by Fran's Chocolate Ltd.
Very tasty.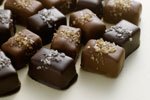 Lilah says we should send her flowers and buy her chocolates.
Changing my hair appointment from 10 am to 5:30 pm has been worth it because they both showed up before 12:30 or while I would have been gone. (I called Jon just to see if I'd be getting anything today when I was making my appointment yesterday.)
So those are my gifts from Jon.
The hair appointment is my gift to myself. I'll be getting highlights and cutting off about 2 inches. Shoulder length is just too long for me to do and feel cute and sassy, plus I think I might add bangs again because they also help me feel cute, even if they drive me nuts on days I don't do my hair.
Tomorrow we're planning on a matinée movie while the girls are at a birthday party and then dinner at a restaurant his office manager recommended and gave us a gift card for. (The gift card is good for any Station Casino restaurant but she recommended a specific one.)
She gave it to Jon as a Christmas present, but since we rarely go somewhere this nice I thought we'd save it for our anniversary.
I love anniversaries.
I love when they're kinda a two day event.
Gifts one day and dinner the next makes it very fun.