Yesterday we added some curb appeal to our house. Well, I don't know if it will make it any more appealing since my car parks right in front of it, but we hope to make it look a little nicer by our front door.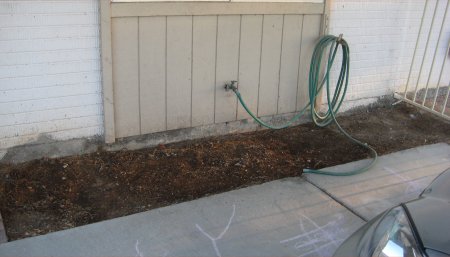 Isn't it beautiful.
The cats also loved to poop in it and not only in it but right by the front door, which was always such a nice welcome gift for our few guests that came by. (I admit we weren't on top of cleaning the cat poop out either.)
So last night we planted some stuff in it to make it more appealing.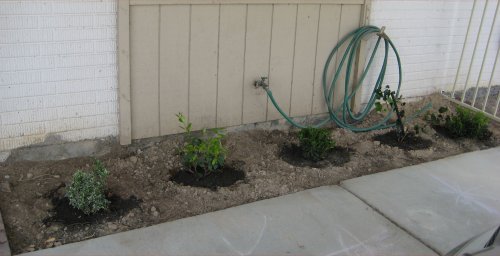 We hope they grow and cover the dirt. One is an ivy one is a jasmine (I think.) both are for ground coverings, two are dwarf orange trees and one is a bush that is only suppose to grow 1 foot high and two feet wide. (We wanted things that would cover the ground but not grow high so an intruder couldn't hide behind them since we have a window right there. ) It was pretty rocky in the dirt, so we'll have to see how they grow.
It started out as a family project, but after the first bush I was needing to watch the neighbor girls that were playing in our backyard, so Jon did most of the work.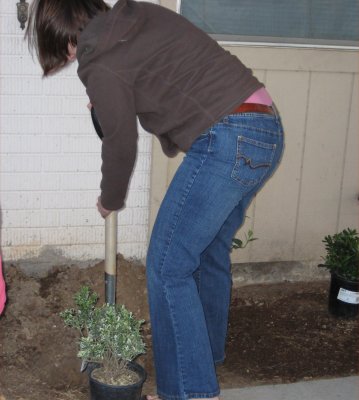 OK, this photo didn't need to be posted because I have the next one, but I looked skinnier in this one…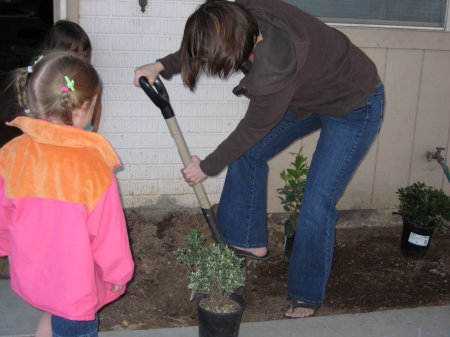 …and in this one I look like I'm working hard, though I'm sure I'm not using that shovel correctly, and I probably shouldn't be wearing sandals.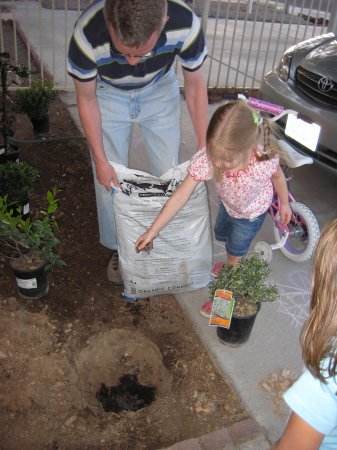 Lilah putting the special dirt in.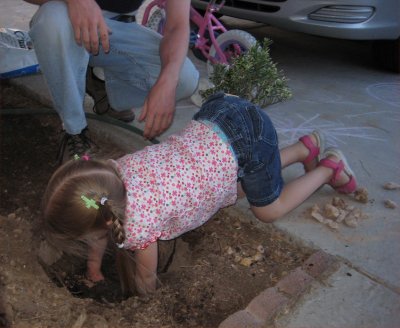 Lilah mixing the dirt and water.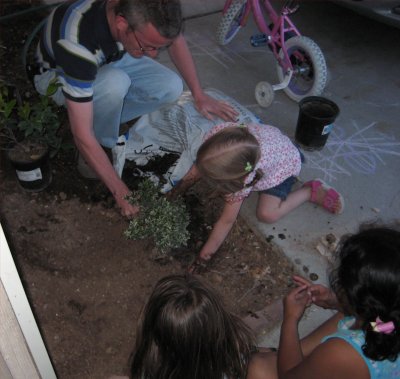 Our first bush is planted. Notice the neighbor girls. After this they we're playing and Jon was left to plant alone.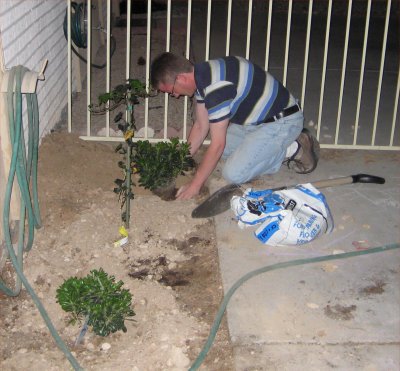 Hard working husband.
He's a great Daddy and husband.