So I finished my last batch of truffles last night. I made around 350, but I learned that there will be couple from each batch that crack or don't turn out so they have 330.
I am so relieved.
Here are some close ups of the truffles though, I plan on taking some nice pictures of them individually packaged also.
But first I have to explain that the silver accent was so frustrating and on accident I found a way to use it and like it completely. I just wasn't feeling what I thought would look nice. So I say if you want a silver accent beware that it's frustrating unless you have time to figure out the design. I should have tried it a couple different designs but I didn't have time, and the two ways I did the silver look OK but I found the way I loved it on the last batch on the tenth from the last truffle and completely on accident.
The first design. I think it looks better in the picture than it did in real light. I also did lighter silver accents which you see in the one with lots of truffles.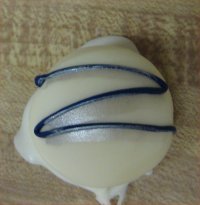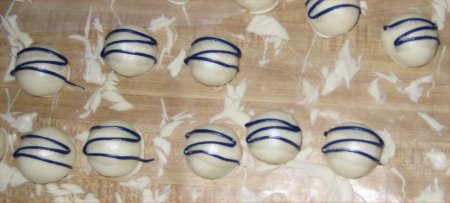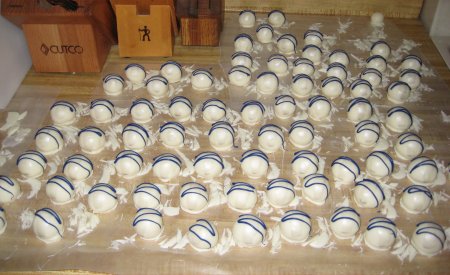 What my counter looked liked for four nights, with a brief pause for Sunday.
The accidental truffle is on the left, the second design is on the right. (I also want to say these are also examples of the largest truffles I would make an the smallest. Most of my truffles were in between these two sizes. )
I was going for contrast so I never thought to have the silver in line with the Z. It looks so obvious now that it would look better, but I'm not a creative person.
I made three batches the first day and then four batches for the other three days , or around 80- 100 truffles depending on the size. I got pretty good at getting exactly 25 per batch by the third day. I was going for slow and steady since I had other things to do in the mornings and couldn't devote the my whole day to truffle making.
In fact I had other things to do like grocery shopping, but I didn't have time to put the groceries away, except the frozen and cold items.
My house while making truffles. It was only like this one day though.
I wasn't sure if I enjoyed making these truffles at first.
To tell the truth I think the fact that they're weren't turning out as nice as I liked made the task harder and less rewarding. To see one truffle that I was completely happy with was a big relief and actually made me say 'I wonder if I could market these'. The one problem being is they are so time intensive and I'd have to sell them for at least $1 a truffle and to me that's a little steep if you're wanting to buy 300 for a wedding and I'm not sure I want to do small orders, like boxes of truffles.